Corey Nolen's
new EP
Following The Song
is a pleasant journey through relationships, the music business, and the trappings of the road. The six- song collection flows nicely from traditional country into more Americana territory with Nolen possessing a tear in his voice that wraps around every song, filling it with heartbreak and longing.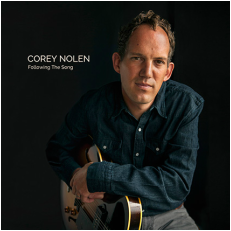 The album kicks off with "Missing You Tonight," a mid-tempo song driven by prominent fiddle that segues into what's probably the best on the EP, the bittersweet title track. The singer laments
"....Now that the money's all gone, I guess I'm in it for love...'Cause I don't think they'll hear my voice on the radio..."
This gem is exactly what we need to hear on country radio.
"Not Fighting" is an achingly sad duet with Ashley Spurling, where, as the years go by, they question their relationship and they realize they're just going through the motions of everyday life.
"...It ain't the hurting we had...but it's a new kind of sad..."
Spurling's sweet vocals add a heavy dose of poignancy to the ballad.
Closing out the EP is "The Road," a lonely, pedal steel weeper that follows the singer on his way down the road and back to his "broken home."
"Lately waking up it's hard to know what town I'm in....Just moving at the mercy of whatever pays the bills..." ​
The backdrop of the steel makes the song feel even sadder than it is - true country music at its finest.
The Alabama native has released three other albums, including a live EP which was released earlier this year.
Following The Song
will be available August 14.
Thank you to The Daily Country for allowing me to review this EP. www.thedailycountry.com